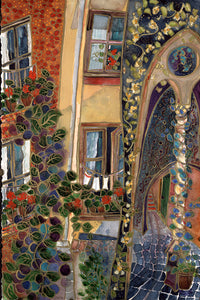 Wonder Yonder This painting is called 'Wonder Yonder', a funny name that came to me in the moments after completing. Actually the inspiration is a back street in probably Siena, Italy, though old Florence too has many secret allys that would have had me wondering lost for hours. I love unusual architecture, people touches of painted bits, of crumpled, worn, loved. The element of mystery slightly lost in time but that exudes hope and the passion of the creative spirits who lived. Their energy still exists and I feel compelled to add my painted documentary of heart touched human embellishments. Perhaps my way of passing along an unnamed legacy,  a hope for this world. Jill
: Colourful and vibrant canvas limited editions are each signed and numbered by Artist Jill Louise Campbell.  The canvas giclee artwork is produced locally on Salt Spring Island using archival inks and advanced printing technology.  All prints are carefully top-coated for added UV protection, providing flexibility to hang in bright sun-filled spaces.  Small & Medium Limited Editions are stretched by hand onto Canadian-made wood stretcher bars, ready to hang and enjoy. The Large size is normally shipped rolled due to its size, with stretching easily done by your local framer.
General shipping is via Canada Post, connecting internationally through USPS and other national postal services. Please see the Shipping & Artwork Details page under "Salt Spring Gallery" for more details on the art, mounting/framing, and shipping options.
Original : Available