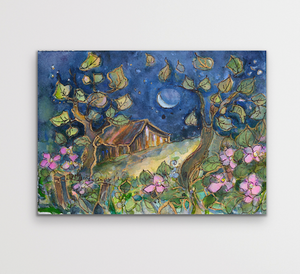 "My love affair for British Columbia's coastal forests, woodlands and original homesteads began when in 1990 when my husband and I purchased ten acres of mostly logged second generation land.
We decide to homestead and build our family home. Our drive, a steep twisted logging road edged in vistas of graceful curling giant conifer arms, we estimate some trees over 500 years. Younger logged parts of our land are thickened with skinny alders, meadows tangled in broom and gorse all gracefully edged in my spring time favourite, the Nootka Rose. I am enchanted, Nootka Roses tangles in hedge row along twisting country roads, BlackBerry, SeaSpray, Daisy's, Foxglove. Wild Roses so fragrant it triggers lucid dreams.
As Homesteaders we select a building site, install power lines and septic system, preserving most of our land to the wild. We purchase a sawmill, mill giant beams to supplement building material for what we can from our land.
Our first night on Salt Spring Island I awake with an unseen pull, go outside and view the stars. A 'lighted symphony' plays, celebrating a coastal welcome. Northern Lights swirl, leap over head, gather momentum then encircle our encampment.
Scent of roses permeates this auspicious first night."
"Nootka Rose", painting is an essence distilled from many enchanting encounters while living an island life'.   Jill

Colourful and vibrant canvas limited editions are each signed and numbered by Artist Jill Louise Campbell.  The canvas giclee artwork is produced locally on Salt Spring Island using archival inks and advanced printing technology.  All prints are carefully top-coated for added UV protection, providing flexibility to hang in bright sun-filled spaces.
The Small & Medium Limited Editions are stretched by hand onto Canadian-made wood stretcher bars, ready to hang and enjoy. 
Artist Jill Louise Campbell offers original enhancements to the Medium and Large sizes. Original enhancements add colour and texture, bringing out colours and adding the lovely true gold sparkle to the artists signature lining work.
Original : Sold