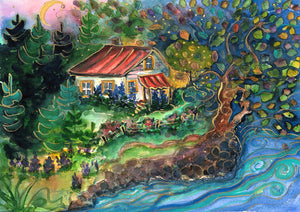 Cottage By The Sea :
"Summer cottages for almost a hundred years on Salt Spring are now inhabitation year round. Each dwelling is permeated with love and playful experiences. Surrounded by wild gardens these cottages invite deep nostalgia for a simpler life with grateful satisfied abundance."
Colourful and vibrant canvas limited editions are each signed and numbered by Artist Jill Louise Campbell.  The canvas giclee artwork is produced locally on Salt Spring Island using archival inks and advanced printing technology.  All prints are carefully top-coated for added UV protection, providing flexibility to hang in bright sun-filled spaces.  Small Limited Editions are stretched by hand onto Canadian-made wood stretcher bars, ready to hang and enjoy.
General shipping is via Canada Post, connecting internationally through USPS and other national postal services.  We are also pleased to arrange alternative shipping – please contact Carmen at the gallery at 800-474-6705. 
Please see the Shipping & Artwork Details page under "Salt Spring Gallery" for more details on the art, mounting/framing, and shipping options.