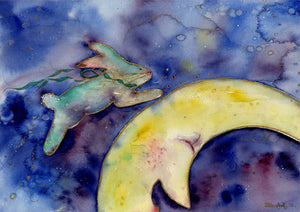 Bunny Moon : Magical bunny in a purple sky, dreaming of jumping over the sweet moon. 
Bunny Moon is a lovely choice for kids spaces.
Colourful and vibrant canvas giclee artwork is produced locally on Salt Spring Island using archival inks and advanced printing technology.  The 11"x14" Art Prints are mounted on artist board and can either be ordered framed with our standard gallery frame, or purchased unframed and easily mounted in any standard size 11"x14" from your local framing source. 
General shipping is via Canada Post, connecting internationally through USPS and other national postal services. 
Bunny Moon : Limited Edition Canvas Giclee